The mother of King Krishnadevaraya was very pious and orthodox. She used to visit the temple every day. She used to pray to God for many hours every day. She had visited all the holy places and given a lot of charity to temples.
One day she became very sick. She called King Krishnadevaraya and said, "My son, I wish to donate a thousand kilos of mangoes to the poor people."
Krishnadevaraya immediately purchased many mangoes from Ratnagiri. He loved his mother a lot and wanted to fulfil her wishes. Unfortunately, before the mangoes came to the city, his mother died.
Translate
Die Mutter von König Krishnadevaraya war sehr fromm und orthodox. Sie besuchte jeden Tag den Tempel. Sie betete jeden Tag viele Stunden zu Gott. Sie hatte alle heiligen Stätten besucht und den Tempeln viel Nächstenliebe geschenkt.
Eines Tages wurde sie sehr krank. Sie rief König Krishnadevaraya an und sagte: "Mein Sohn, ich möchte den armen Menschen tausend Kilo Mangos spenden."
Krishnadevaraya kaufte sofort viele Mangos aus Ratnagiri. Er liebte seine Mutter sehr und wollte ihre Wünsche erfüllen. Leider starb seine Mutter, bevor die Mangos in die Stadt kamen.
Krishnadevaraya felt very bad. He organized a ceremony for one full week. The ceremony was performed by three Brahmins. On the last day, the King called some Brahmins to ask for advice.
The King said, "My mother had one last wish before she died. She wanted to give mangoes to all Brahmins and poor people. But she died before I could fulfil her wish. I wish for my mother to rest in peace. What should I do to fulfil my mother's last wish?'
Translate
Krishnadevaraya fühlte sich sehr schlecht. Er organisierte eine ganze Woche lang eine Zeremonie. Die Zeremonie wurde von drei Brahmanen durchgeführt. Am letzten Tag rief der König einige Brahmanen an, um sie um Rat zu bitten.
Der König sagte: "Meine Mutter hatte einen letzten Wunsch, bevor sie starb. Sie wollte allen Brahmanen und armen Menschen Mangos geben. Aber sie starb, bevor ich ihren Wunsch erfüllen konnte. Ich wünsche meiner Mutter, dass sie in Frieden ruht. Was soll ich tun, um den letzten Wunsch meiner Mutter zu erfüllen?"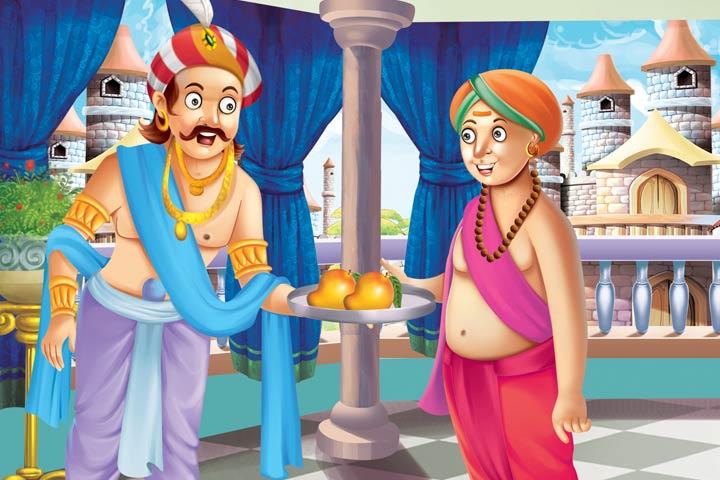 The Brahmins were very greedy. They said, "My King, your mother's last wish is very important. The King must give each Brahmin a gold mango.  Then your mother will be able to rest in peace."
King Krishnadevaraya immediately ordered gold mangoes to be made and presented them to the three Brahmins. He became very happy since he believed that his mother would now be happy and peaceful.
Translate
Die Brahmanen waren sehr gierig. Sie sagten: "Mein König, der letzte Wunsch Ihrer Mutter ist sehr wichtig. Der König muss jedem Brahmanen eine goldene Mango geben. Dann kann deine Mutter in Frieden ruhen."
König Krishnadevaraya befahl sofort die Herstellung von Goldmangos und überreichte sie den drei Brahmanen. Er wurde sehr glücklich, da er glaubte, dass seine Mutter jetzt glücklich und friedlich sein würde.
Tenali Raman heard about this story from the head of the royal treasury. Tenali Raman called the same three Brahmins to his home to perform a ceremony for his own mother.
The Brahmins came to Tenali's house. Tenali Raman closed all the doors and windows. He had a red hot iron rod in his hand. The Brahmins were scared and confused.
Translate
Tenali Raman erfuhr diese Geschichte vom Leiter der königlichen Schatzkammer. Tenali Raman rief dieselben drei Brahmanen zu sich nach Hause, um eine Zeremonie für seine eigene Mutter durchzuführen.
Die Brahmanen kamen zu Tenali. Tenali Raman schloss alle Türen und Fenster. Er hatte einen glühenden Eisenstab in der Hand. Die Brahmanen hatten Angst und waren verwirrt.
Tenali explained, "My mother used to have knee pain all the time. As a final remedy, she wanted me use these hot iron rods on her knee. Unfortunately, she died before I could help her. I was very sad and afraid that she will not be in peace. Now I want to fulfil her wish by giving you this treatment".
Translate
Tenali erklärte: "Meine Mutter hatte die ganze Zeit Knieschmerzen. Als letztes Mittel wollte sie, dass ich diese heißen Eisenstangen an ihrem Knie benutze. Leider ist sie gestorben, bevor ich ihr helfen konnte. Ich war sehr traurig und hatte Angst, dass sie nicht in Frieden sein wird. Jetzt möchte ich ihren Wunsch erfüllen, indem ich euch diese Behandlung gebe."
The Brahmins were shocked and said that peace cannot be achieved like that. Tenali said that they had taken the golden mangoes from the king saying the same reason. This was the way Tenali's mother could find peace.
The Brahmins understood that they were greedy and should have cheated the King. They returned the golden mangoes back to the King.
Translate
Die Brahmanen waren schockiert und sagten, dass so ein Frieden nicht erreicht werden kann. Tenali sagte, dass sie die goldenen Mangos vom König genommen hatten und den gleichen Grund sagten. Auf diese Weise konnte Tenalis Mutter Frieden finden.
Die Brahmanen verstanden, dass sie gierig waren und den König hätten betrügen sollen. Sie gaben die goldenen Mangos an den König zurück.
 [/expand
Hope you had fun learning German through short stories 🙂 If so leave a comment!!!
For more languages:
Learn German through Short stories: https://childhood-stories.com/German 
Learn Spanish through Short stories: https://childhood-stories.com/Spanish 
Learn Italian through Short stories: https://childhood-stories.com/Italian 
Learn Dutch through Short stories: https://childhood-stories.com/Dutch 
Learn French through Short stories: https://childhood-stories.com/French 
Learn Portuguese through Short stories: https://childhood-stories.com/Portuguese 
Learn Portuguese through Short stories: https://childhood-stories.com/English
About: Studying through Dual Language immersion is among the best techniques for learning a new language. The objective of this website is to teach yourself how to read and speak German confidently using English as a base 🙂 These German short stories are super cool to read for beginners and also for entertaining children. Aesop's Fables are among the best stories that can be studied on a daily basis. 
About the Editor
The author of this German dual language short story is a C1 Goethe certified German language expert. He has over 5 years' experience in teaching German and over 8 years learning. 
He has conducted over 1000 plus hours of classes to over 300 students. In simple words (his words as well as his student's words), he is AWESOME!!! He can be reached out to at deindeutschlehrer24@gmail.com
He also provides German Language courses for A1, A2 and B1 levels. Below are the details for the same:
Fees for A1, A2 and B1 levels are 120€,140€ and 160€ respectively.