Once upon a time, King Akbar was taking a walk in his garden with his wife and his guests. He tripped on a rock which was sticking out of the soil in the garden. King Akbar felt very embarrassed. How can a king stumble before his guests? He grew very angry.
Translate
Es war einmal, als König Akbar mit seiner Frau und seinen Gästen in seinem Garten spazieren ging. Er stolperte über einen Felsen, der im Garten aus dem Boden ragte. König Akbar war sehr verlegen. Wie kann ein König vor seinen Gästen stolpern? Er wurde sehr wütend.
He ordered his guards, "The gardener is a very foolish man and needs to be punished. If he had removed this rock, then I would not have tripped. Throw him in jail. He shall be hanged tomorrow."
The guards took away the poor gardener to Jail. Birbal came to know about the incident in the evening and he went to visit the Gardener. He whispered something into the Gardener's ear and went back to his room.
Translate
Er befahl seinen Wachen: "Der Gärtner ist ein sehr dummer Mann und muss bestraft werden. Wenn er diesen Stein entfernt hätte, wäre ich nicht gestolpert. Werft ihn ins Gefängnis. Er soll morgen gehängt werden. "
Die Wachen brachten den armen Gärtner ins Gefängnis. Birbal erfuhr am Abend von dem Vorfall und besuchte den Gärtner. Er flüsterte dem Gärtner etwas ins Ohr und ging zurück in sein Zimmer.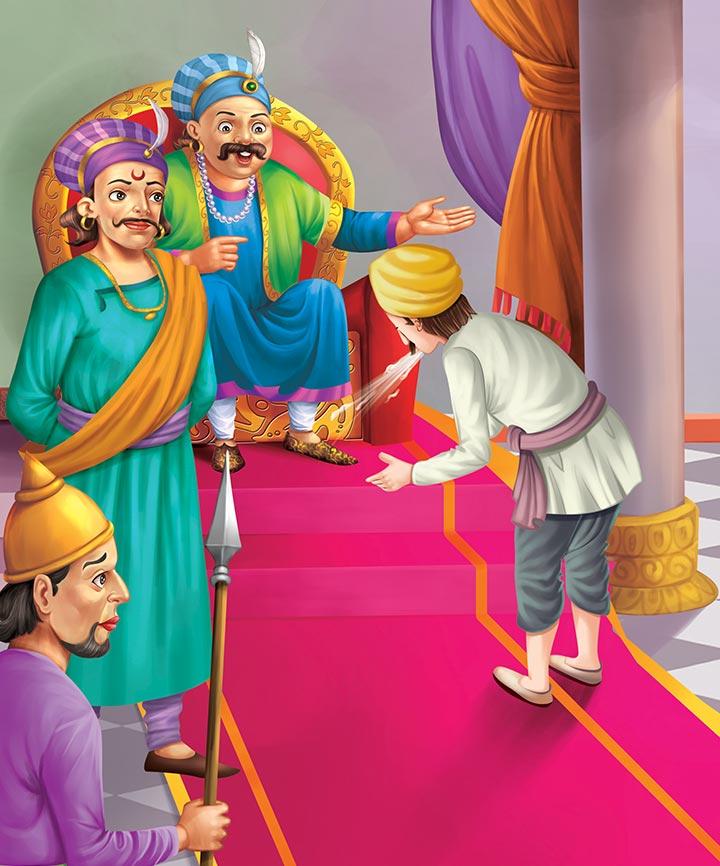 The next day the Gardener was asked, "Do you have any last wishes?"
The Gardener said, "I wish to see King Akbar one last time before I die. He is my King and I love him very much."
Translate
Am nächsten Tag wurde der Gärtner gefragt: "Haben Sie letzte Wünsche?"
Der Gärtner sagte: "Ich möchte König Akbar ein letztes Mal sehen, bevor ich sterbe. Er ist mein König und ich liebe ihn sehr."
The guards informed the King about the request and the King agreed. The Gardner was brought before King Akbar.
King Akbar asked, "I have granted your last wish. You wanted to see me. Do you have any last words?"
Translate
Die Wachen informierten den König über die Anfrage und der König stimmte zu. Der Gärtner wurde vor König Akbar gebracht.
König Akbar fragte: "Ich habe deinen letzten Wunsch erfüllt. Du wolltest mich sehen. Hast du noch letzte Worte? "
The gardener did not speak any word but spat at the feet of Akbar. King Akbar became extremely angry.
Akbar screamed at the Gardener, "How dare you spit at the King! What is the meaning of this?"
The Gardener turned white and began to cry loudly. He fell at his feet.
Translate
Der Gärtner sprach kein Wort, sondern spuckte Akbar zu Füßen. König Akbar wurde extrem wütend.
Akbar schrie den Gärtner an: "Wie kannst du es wagen, den König anzuspucken! Was ist die Bedeutung davon?"
Der Gärtner wurde weiß und begann laut zu weinen. Er fiel ihm zu Füßen.
Birbal said, "My King, the gardener is a very loyal man and worships you. He was feeling very sad that his great king did not have a good enough reason to hang him.. He felt that your decision will be criticized by the people. Therefore, he decided to give you a grave reason to hang him. Now you can hang him and the people will be happy"
Akbar understood what Birbal meant and pardoned the gardener. He also gave 10 gold coins to the Gardener as a reward.
Translate
Birbal sagte: "Mein König, der Gärtner ist ein sehr treuer Mann und verehrt Sie. Er war sehr traurig, dass sein großer König keinen Grund hatte, ihn aufzuhängen. Er hatte das Gefühl, dass Ihre Entscheidung vom Volk kritisiert wird. Deshalb hat er beschlossen, Ihnen einen schwerwiegenden Grund zu geben, ihn aufzuhängen. Jetzt können Sie ihn aufhängen und die Leute werden glücklich sein."
Akbar verstand, was Birbal meinte und entschuldigte den Gärtner. Als Belohnung gab er dem Gärtner 10  Goldmünzen.
Hope you had fun learning German through short stories 🙂 If so leave a comment!!!
For more languages:
Learn German through Short stories: https://childhood-stories.com/German 
Learn Spanish through Short stories: https://childhood-stories.com/Spanish
Learn Italian through Short stories: https://childhood-stories.com/Italian
Learn Dutch through Short stories: https://childhood-stories.com/Dutch
Learn French through Short stories: https://childhood-stories.com/French
Learn Portuguese through Short stories: https://childhood-stories.com/Portuguese
Learn Portuguese through Short stories: https://childhood-stories.com/English
About: Studying through Dual Language immersion is among the best techniques for learning a new language. The objective of this website is to teach yourself how to read and speak German confidently using English as a base 🙂 These German short stories are super cool to read for beginners and also for entertaining children. Aesop's Fables are among the best stories that can be studied on a daily basis.
About the Editor
The author of this German dual language short story is a C1 Goethe certified German language expert. He has over 5 years' experience in teaching German and over 8 years learning.
He has conducted over 1000 plus hours of classes to over 300 students. In simple words (his words as well as his student's words), he is AWESOME!!! He can be reached out to at deindeutschlehrer24@gmail.com
He also provides German Language courses for A1, A2 and B1 levels. Below are the details for the same:
Fees for A1, A2 and B1 levels are 120€,140€ and 160€ respectively.